CenterScape - How To add Tag Groups
Configuring Group Codes
An RFCode reader does not simple turn on and read rfcode tags. For a reader to operate it must be told which set of tags are to be read. The reader itself cares about two sets of data. The first set is the group code. The group code is the six digit alpha prefix on the tag ID. The other component is the treatment code, which is a combination of the "air" protocol used and a mapping for the type of data the tag will convey. A group code can have only one treatment code, while a treatment code can have many group codes. Each group code will need a separate entry in CenterScape.
Determining your Tag Group/ Treatment Group
In the below example on an M174 IT asset tracking tag, the needed information is printed on the tag label. The Treatment code is the final three characters on the part number and the group code is RMIRAA, which is the six letter prefix for the tag id of RMIRAA00721661.
Adding The Tag Group To CenterScape
To add the tag group to CenterScape, in the admin console under configuration choose tag groups, and then click the "New" button. Then Select the correct treatment group from the drop down list.
In the next screen there are two field that may need to be modified. The "Name" is the name of the the tag group. This can the group code of the tags or something like "Asset tag group 1". The name of the tag group may change the name of a group code at any time. The second field is the group code. By default the first group code of tags manufactured for a treatment code will appear here. Sometimes this may be the intended group code and will match the tag, other times this field will need to be altered to the group code on the tag. The defaults for all other fields are customized based on treatment code for the best performance for the most number of use cases. They should not be modified unless they are found not to work correctly for the specific use case needed.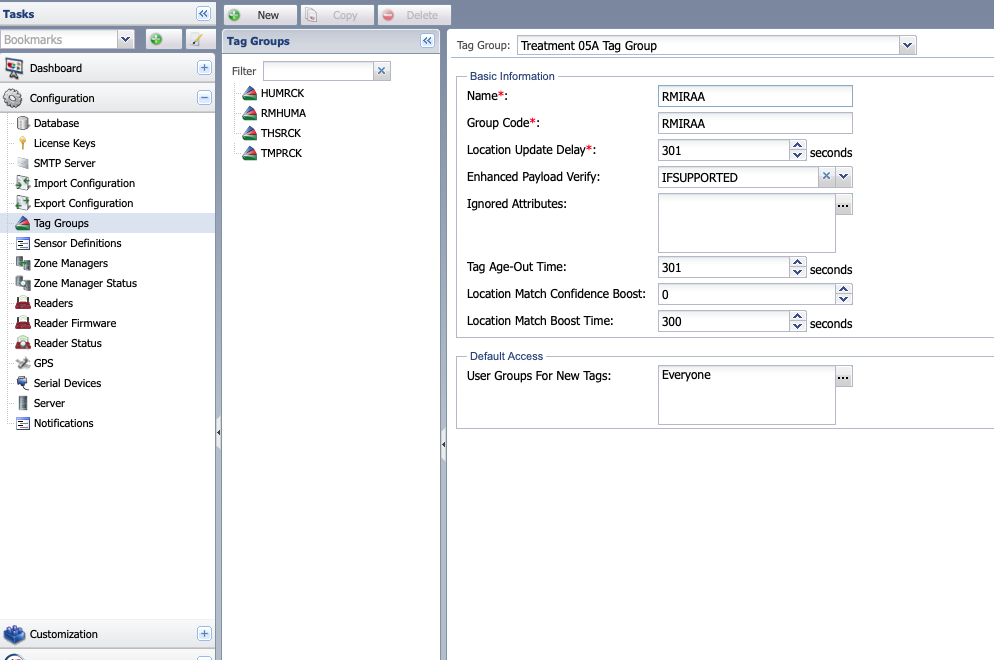 Note: If the wrong treatment code is selected, it cannot be changed later. All tags need to be removed from the software, the tag group will need to be deleted then re-added as the correct treatment code.